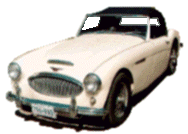 Best experienced with


Click here to start.
Thanks for visiting our web site!
You are visitor number:
The Sports Car Factory is dedicated to preserving and maintaining vintage automobiles. While our speciality lies in hand formed panels, our trained technicians can easily handle light machine work, mechanical problems, woodwork, upholstery, and paint work. Our experience lies in European Marques, however we are interested in helping restore your classic, regardless of whether or not it falls in this category. Custom work and modifications or restoring to its original condition, no job is too big or too small.

Our operation is not geared towards retailing new parts, however we have (over the years) achieved some very good contacts in the British Market, and we would be happy to assist you with spares. We have a LARGE selection of used parts on hand for your British automobile.

Our interests over the past three decades have provided us with many contacts. If you are looking for a particular marque, please feel free to contact us for assistance.

As years have progressed , so have we , and we have applied our skills and techniques towards newer model European cars. Volvo's , Mercedes , BMW's , Alfa's , Porsche's , Volkswagon's , Rover's , and Jaguar's are regularly serviced - interior touch up's , paint work , mechanicals , and detailing - total car care under one roof. Sales and service.

We can be reached during regular business hours (ET) at: (613) 989-2171. Please ask for John Pritchard or Mark .
Thanks for stopping by.